The only warehouse Labor Management System (LMS) that delivers results in weeks.
Takt is a warehouse labor management system (LMS) & warehouse analytics platform built for B2C, D2C, 3PL warehouses. Takt can integrate with all of your existing systems such as your warehouse management system (WMS), returns management system (RMS), time clock, robotics, automation, and more -- allowing you to increase labor productivity, reduce labor costs, and increase employee engagement in weeks.



Increase Employee Engagement, Increase Labor Productivity, and Reduce Labor Costs
Up and Running in 4 Weeks
The easiest (and fastest) implementations in the industry. Takt plugs-and-plays with your existing tools, no IT work needed.
15 Minute User Onboarding
Our intuitive interface & A.I. insights will turn your supervisors into operations all-stars, no data science degrees required.
Visibility Across Your Network
Track real-time performance & profitability with no change to your current operational processes or systems.
Commitment to Partnership
We only succeed when you do. Starting day 1, our customer-obsessed team will be there with you every step of the way.
Trusted by leading retailers and third-party logistics providers (3PL)
"Takt helped us deliver one of our best Peak Seasons ever. We moved 30% more units through our facility than last year with essentially the same staff."




"With Takt, we improved our labor effectiveness by 15-20% during peak season despite doing 30% more volume compared to the previous year. The data and insights are exactly what we need to take action and improve our shift efficiencies."
"We are really leaning on the Observations and Coaching notes to better train, support, and motivate our teams. With Takt, we know where to provide our teams with praise, rewards, and growth opportunities."


LABOR PRODUCTIVITY & ENGAGEMENT
Empower warehouse teams with real-time insights
Takt enables warehouse supervisors with real-time labor productivity. Measure the performance of individual or team based tasks. Track off-gun, downtime, and indirect labor using the integrated Kiosk. Takt Coach surfaces performance insights to supervisors so they can have effective and actionable coaching conversations with employees and reward high performers.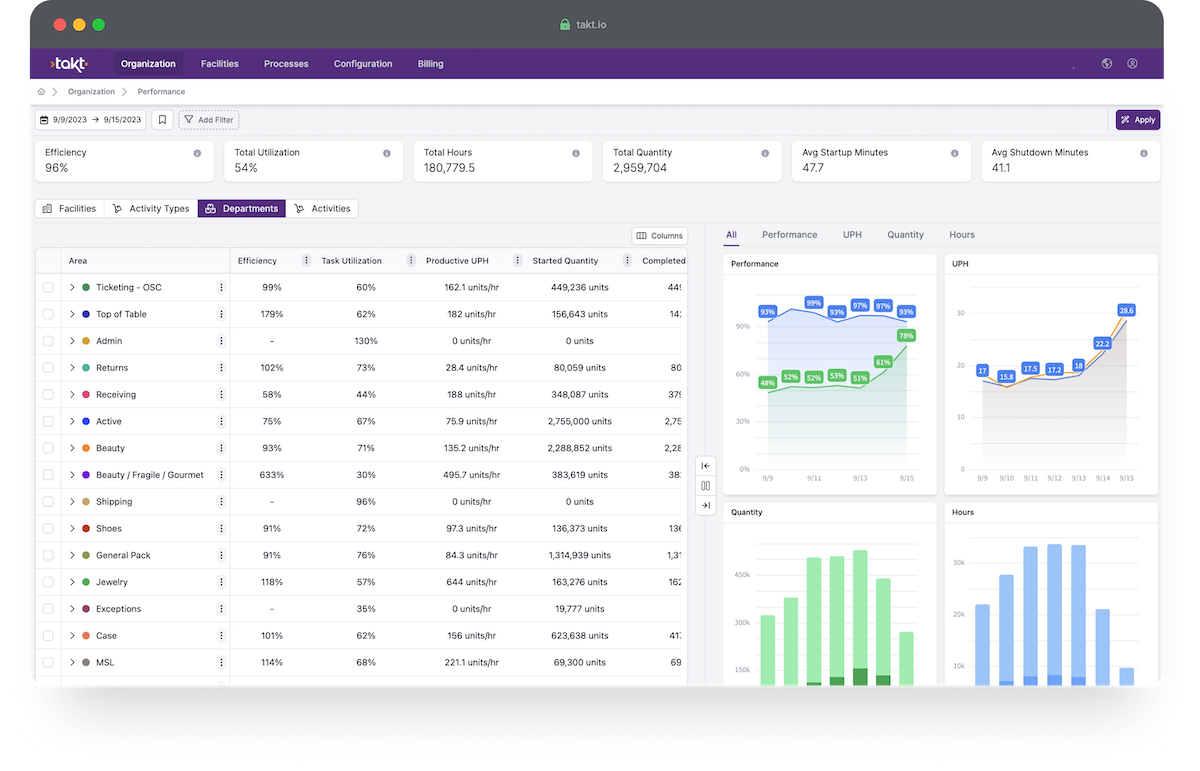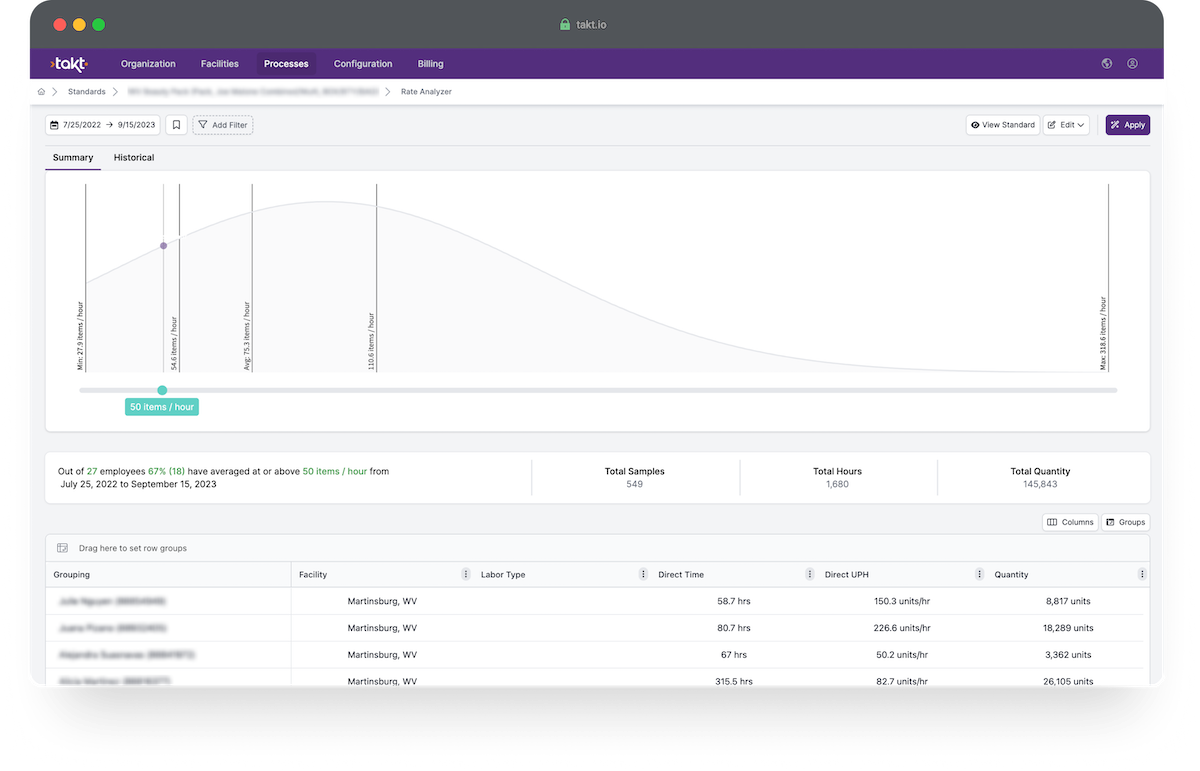 BETTER ENGINEERED LABOR STANDARDS
Optimize Warehouse Processes
Whether you have existing engineered labor standards or want to build data-driven labor standards, Takt can get you up and running quickly. Takt automatically identifies processes and labor standards that are not meeting expectations to guide your continuous improvement team so that you can increase labor productivity.
INSIGHTS THROUGH WAREHOUSE ANALYTICS
Put Your Data to Work
The number of systems within the warehouse has made it difficult to get a unified view of labor productivity and measure the effectiveness of robotics. Takt brings together all of your warehouse management systems (WMS), returns management systems (RMS), time clocks, automation, and robotics into an easy to use interface for your entire time. Operations analysts use Takt's built-in BI tools to analyze work mix and productivity. Developers can build applications or integrate data into their existing tools such as Tableau, PowerBI, or Google Data Studio using our API.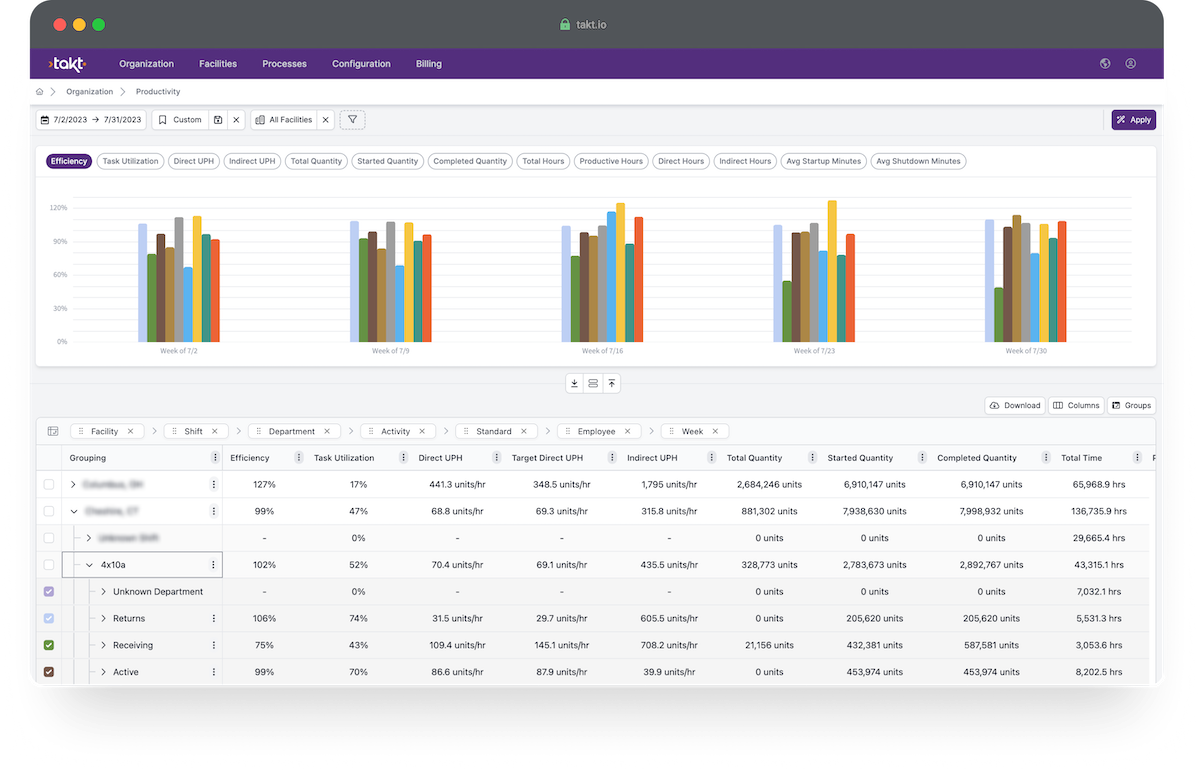 SITUATION
CarParts.com needed to handle increased retail volume at a lower cost as they grew their operations & opened new facilities across North America.
SOLUTION
CarParts.com launched several initiatives, including partnering with Takt to provide a comprehensive, real-time view of labor performance across their network.
IMPACT
Takt implemented their Labor Management System (LMS) across 5 distribution centers in 6 months, leading to significant improvements to Labor Performance & Employee Engagement as CarParts achieved record company growth.
Easy to Integrate and Use
Takt brings together all your warehouse management systems (WMS), time clocks, and robotics platforms into a unified view so your team can focus on performance.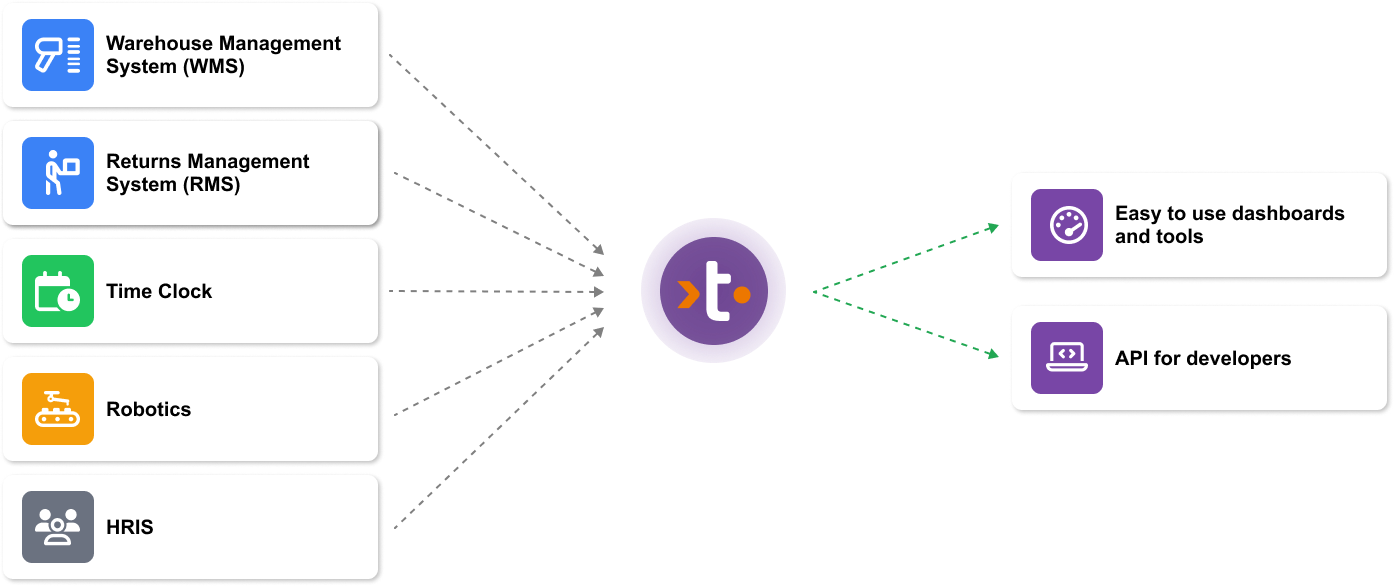 Ready to see how much you could increase labor productivity and reduce costs?
If you are interested in getting more out of your existing warehouse management systems (WMS), time clocks, and automation, fill out the form hear from one of our warehouse productivity consultants.