Accurate, employee-focused performance management
The Takt Warehouse Labor Management System (LMS) improves operational costs, helps identify & retain high performers, and supercharges Continuous Improvement initiatives.
VISUALIZE YOUR IMPROVEMENT
Labor Performance Insights
Easily view warehouse labor productivity and labor utilization across facilities, shifts, and areas. Identify improvement opportunities and pinpoint process challenges. Understand the impact of work mix on your warehouse productivity.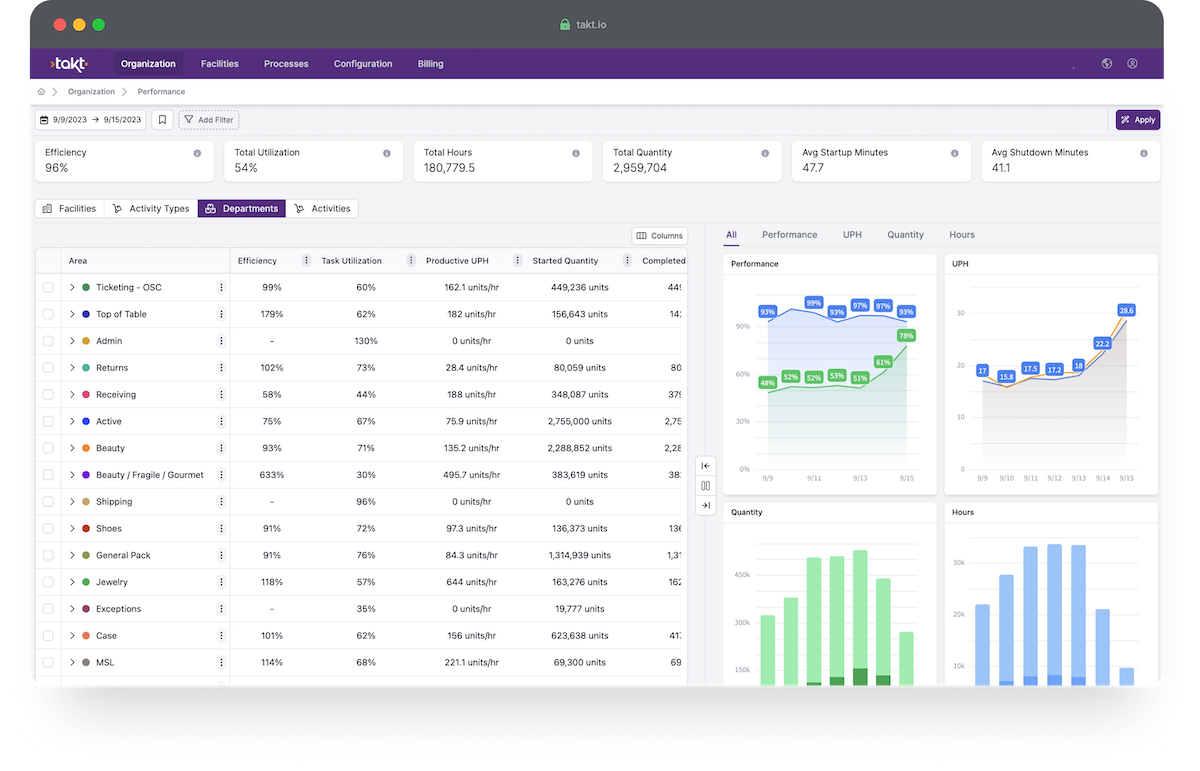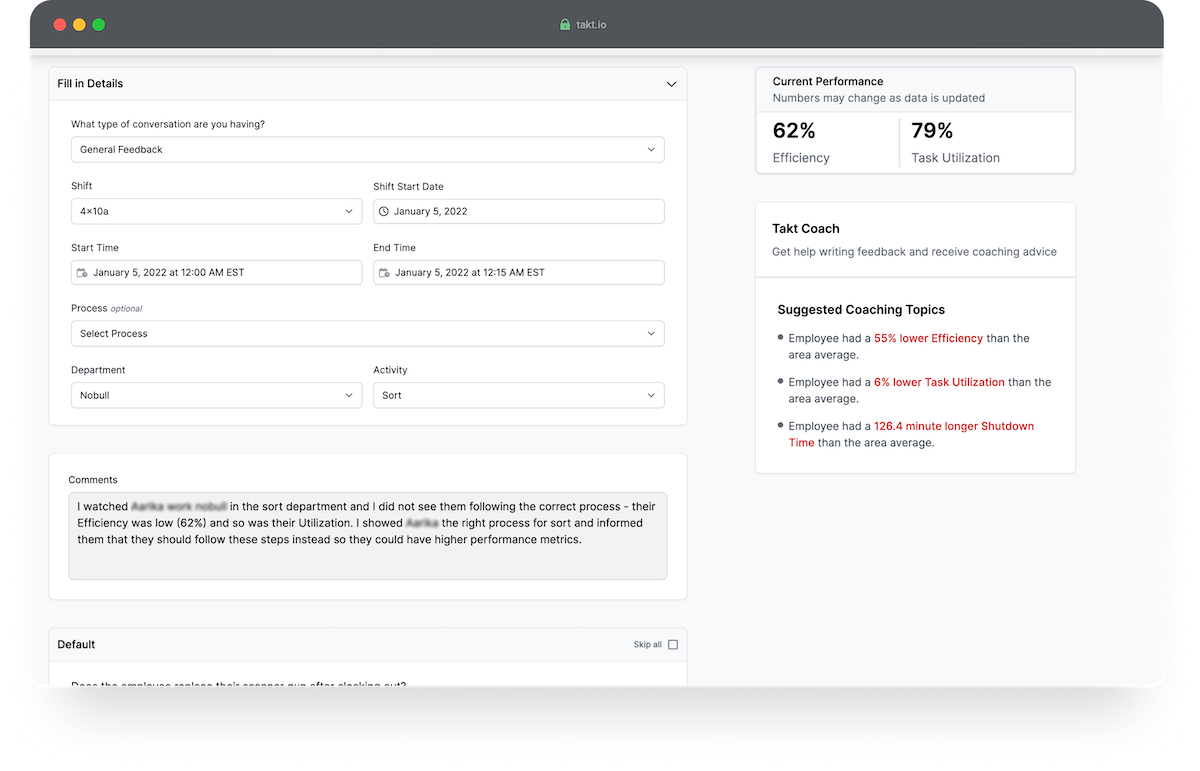 ENGAGE & RETAIN TOP PERFORMERS
Employee Engagement, Coaching, and Reward
Performance improvement starts with your team. Easily track employee productivity, employee engagement, employee tenure, and employee retention. Provide employee feedback on performance, identify coaching opportunities, and provide positive feedback for good performance.
RUN YOUR OPERATION
Manage Labor Standards
Labor standards are difficult and expensive to develop and maintain. Inaccurate our outdated standards don't lead to performance improvement. Takt helps you develop labor standards, alerts you when a labor standard is not matching performance, and provides tools to supervisors so they can coach to standards. Identify tasks where you can reduce labor costs through process changes, training, or new processes and maximize cost effectiveness.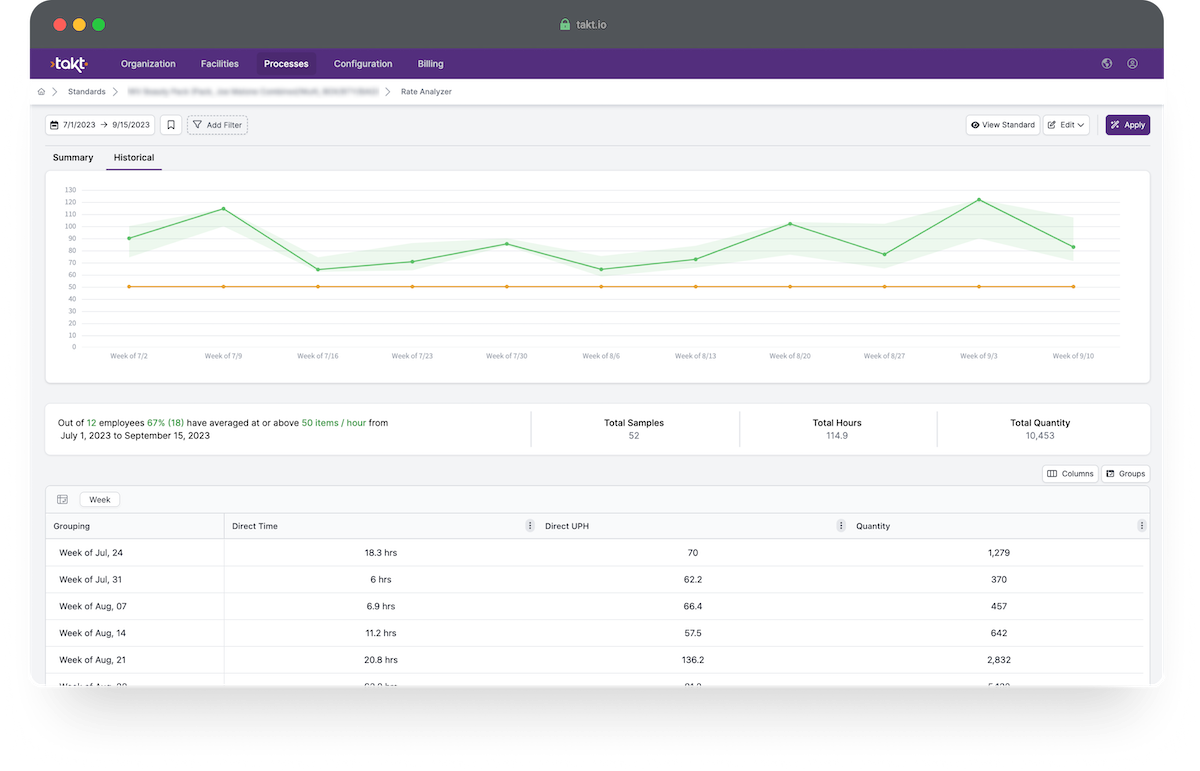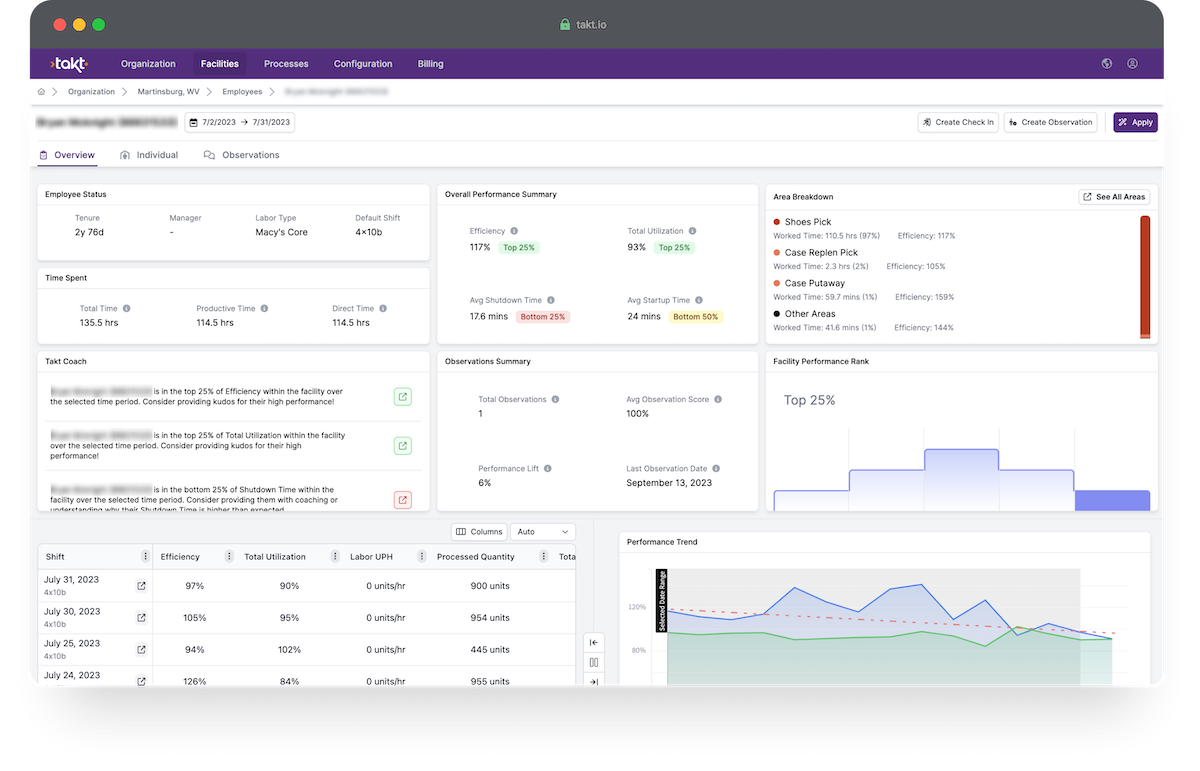 LEVERAGE YOUR DATA
AI-Powered Coach
Warehouses generate millions of data points a day. Training your team to digest this data and make real-time decisions takes time and experience. Takt's AI Power Coach surfaces insights and actions for your team to improve workforce productivity and employee engagement.
REDUCE IT LIFT
Cloud Deployment
Your IT team is already stretched thin. Takt is a cloud-based SaaS Labor Management System (LMS) that can be managed by your operations team. There is no custom code or data formats, all configuration is done within the platform. Send Takt your existing CSV files and we will handle the formatting, ingest, and loading into the Takt platform.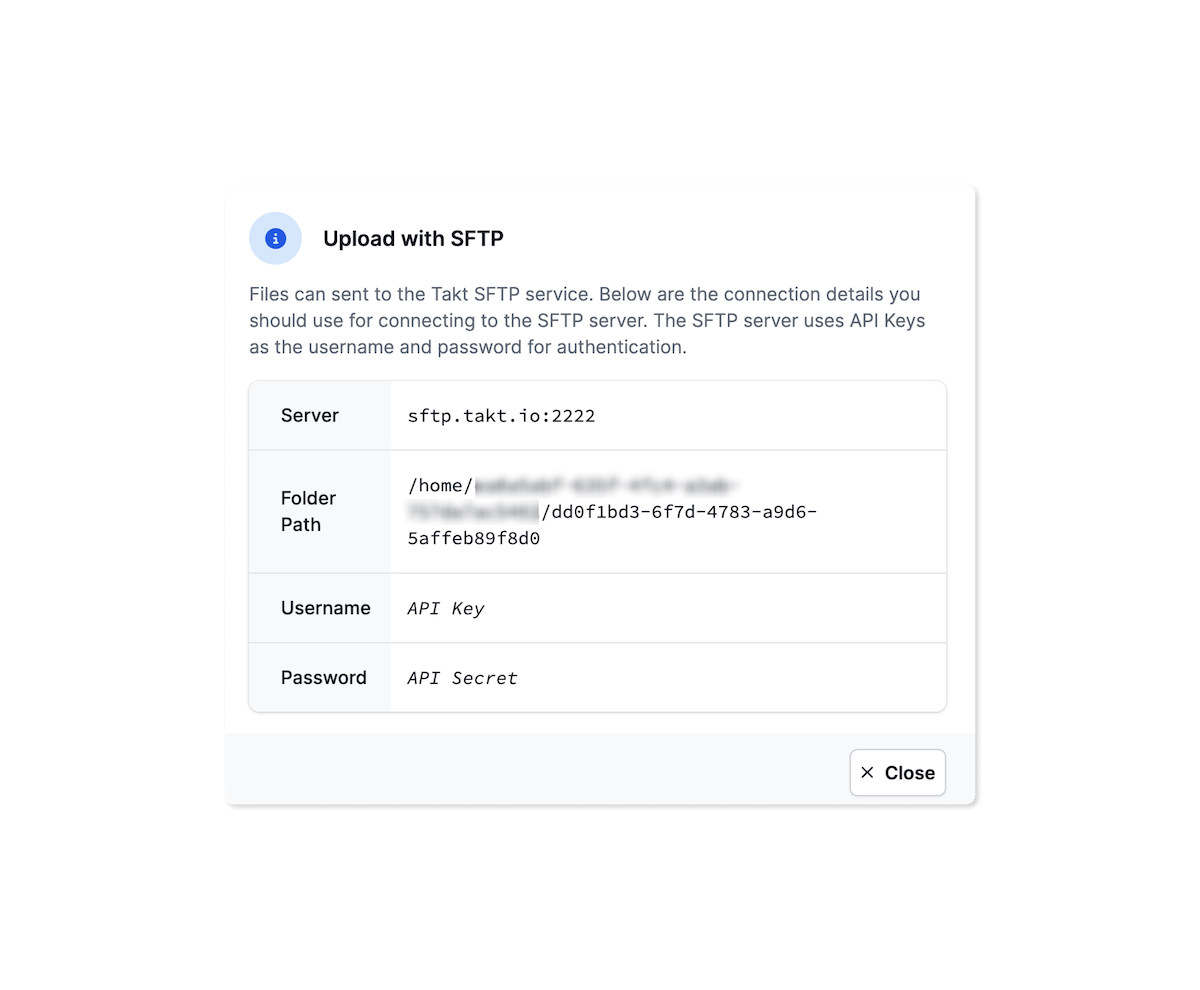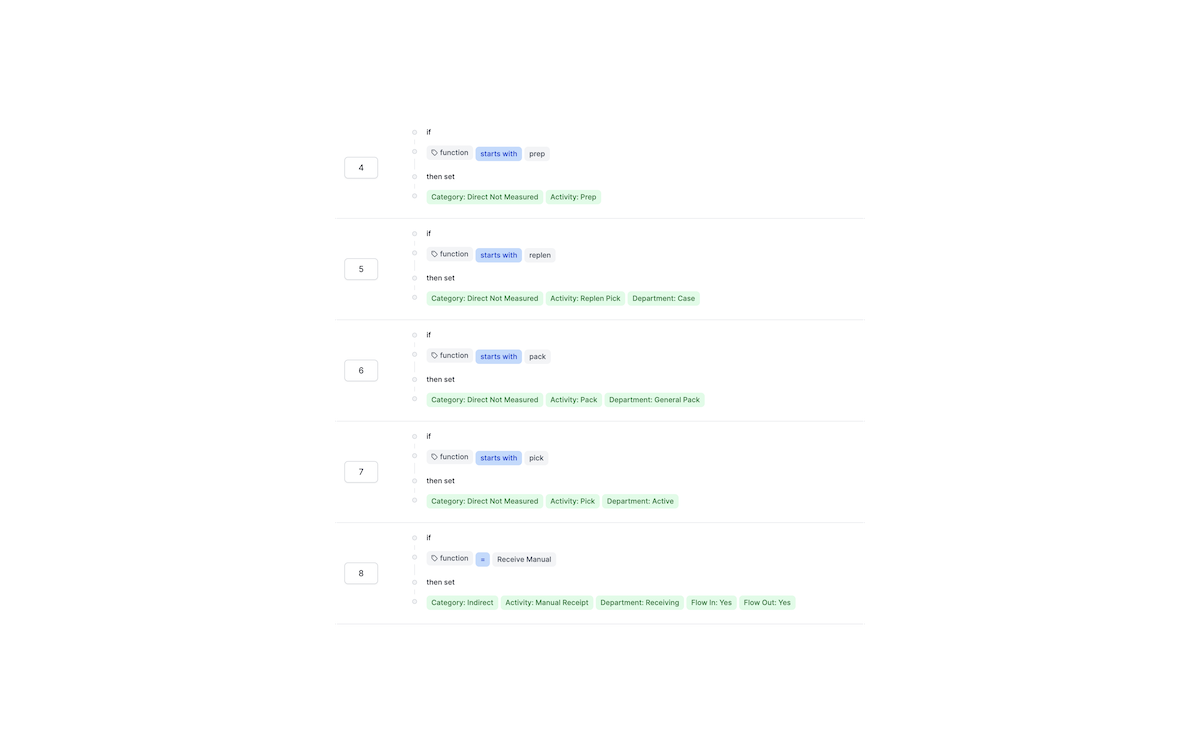 NO COMPLEX DATA REQUIREMENTS
Easy Integration
Leverage one of our native integrations or use your existing SFTP infrastructure to send labor activity data from multiple sources with no strict format required. Takt will transform and load the data. Takt then uses rules to organize the data and assign labor standards.
Proven Efficiency, Utilization, and Cost Saving Results
Fortune 200 Retailer Improved Employee Engagement and Productivity with Takt's Labor Management System (LMS).
Integrated with legacy Manhattan WMS via existing labor activity reports sent every 10 minutes, no code required.


Implemented and trained each 3000 person facility in 4 weeks on Labor Management System capabilities.


Calibrated existing labor standards, prioritized labor standards review, and informed new labor standards with historical data analysis.


Increased employee engagement and performance through 10k observations.


Reduced startup and shutdown time by 20+ minutes.


Increased warehouse productivity by 20% leading to a higher UPH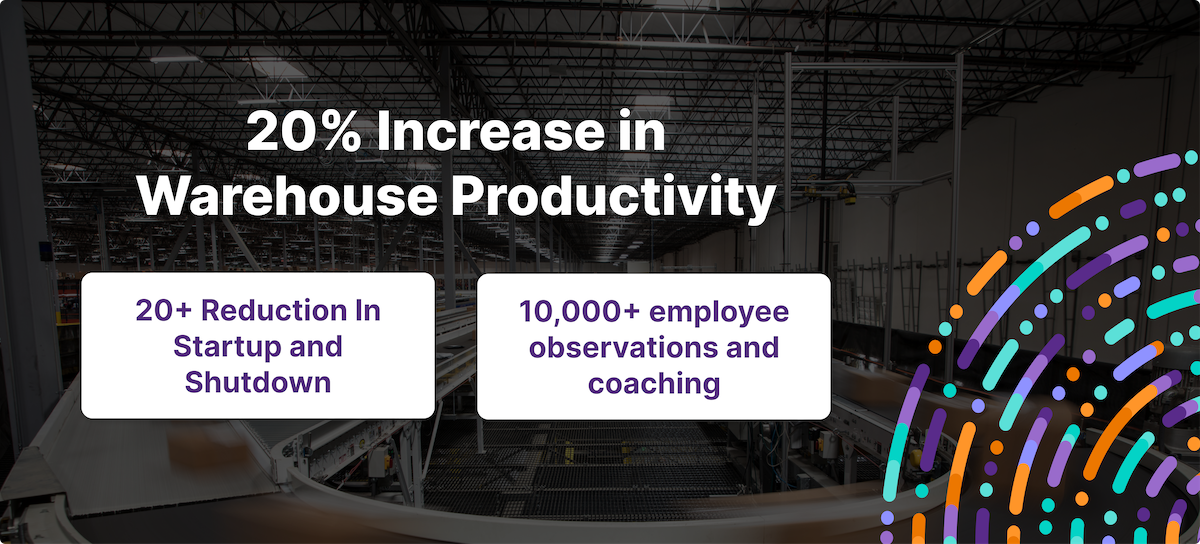 UP AND RUNNING IN 4 WEEKS
Takt Customers Save Money Immediately
With Takt, there aren't long implementations with expensive consulting. Get up and running quickly with configuration - not customization. Our team can onboard, train, and have you up and running in 4 weeks. Throughout your journey our Customer Success team partners with your operations leaders to ensure they have the training and insights they need to be successful.
Onboarding (3-4 weeks)
Our Customer Success team specializes in understanding how your operation works and what data you need at your fingertips. Implementation requires no development and usually takes less than a month!
Phase 1 (Months 1+)
In your first 3 months on Takt, your team will see immediate improvements in startup time, shutdown time, and utilization by reducing time off task. Managers will start providing regular feedback and coaching to behhaviors.
Phase 2 (Months 3+)
Once the low hanging fruit is addressed, teams should start focusing on efficiency, indirect time, honing in standards, and inefficient processes. Takt enables leaders to provide training to the right team members, identify proficiencies, and growth opportunities.
Phase 3 (Month 12+)
Start forecasting more accurately using historical data and planning more effectively with your past performance. Improve processes with targeted engineering projects or automation pilots. Retain and incentivize top talent with a performance based incentive plan.
Not sure or worried you'll get stuck?
Our Customer Success team is obsessed with helping our users drive improvement and will be there every step of the way.
BLOG
The Need for Intuitive & Accessible Warehouse Analytics
Warehouse teams are in desperate need of data to drive their decision making, but current warehouse tools (WMS, LMS, WES) often fall short of the mark.
LEARN MORE
FAQ
Common Labor Management System (LMS) Questions
What is a labor management system (LMS)?
A labor management system (LMS) or labor management software (LMS) is a software application that helps organizations manage their warehouse labor and robotics performance. It can be used to track network, facility, shift, and department level hours and performance. LMS solutions provide tools for measuring employee performance, manager performance, observing employees, optimizing labor costs, and analyzing warehouse data.

Typical warehouse labor management system (lms) benefits:

Performance management: Enables supervisors and managers to track performance, identify coaching opportunities, and measure the effectiveness of feedback.

Employee Engagement: Enables operations teams to ensure employees are receiving regular feedback, measure retention, and identify managers who are coaching their teams.

Labor cost tracking: Track labor hours and labors costs by facility, shift, department, area, and/or client. Automatically assign hours based on the work completed.

Process Optimization: Measure discrete processes using labor standards. Use observations to coach to preferred work methods (PWM) and standard operating procedures (SOPs)

Labor Standards: Develop, maintain, and calibrate labor standards based on historical performance. Use warehouse trends to provide detailed coaching plans and reward high performers.

Forecasting and Planning: Use historical data to train machine learning (ml) models to forecast quantity and workmix. Use these insights to plan more effectively.
What does a labor management system (LMS) do?
A Labor Management System (LMS) ingests data from your time clock and warehouse management system (WMS) in real-time to provide actionable insights to your supervisors, facility leaders, and engineers to increase productivity, reduce costs, and increase employee engagement.
Some labor management systems (LMS) will also track time and attendance. We find that time clocks or other workforce management software are best suited for this reporting.
Where do labor management systems (LMS) get their data?
A Labor Management System (LMS) ingests data from your time clock and warehouse management system (WMS). Typically, this data is sent over SFTP or API.
How much does a labor management system (LMS) cost?
There are two primary costs associated with a labor management system (LMS): implementation and licensing costs. Traditionally, labor management systems (LMS) were expensive to implement and maintain their configuration, often requiring dedicated staff to manage.

Takt has low per facility implementation fees and usage based pricing that aligns to the size of your team. Because there is no code required, configuration can be easily maintained by your engineering team. Takt's Customer Success team is your partner through the entire journey so that you can focus on running your business and running an LMS.
How long does it take to implement a labor management system (LMS)?
Traditional labor management systems (LMS) take 2 - 8 months to implement. Takt can be implemented in 4 weeks per facility with follow-on facilities accelerating.
What are the best Labor Management Systems (LMS)?
Labor is the largest cost within a warehouse or distribution center. Implementing new automation, robotics, or warehouse management systems can only improve performance so much without optimizing your labor.

Takt is the best labor management system (LMS) for managing your existing labor, implementing and measuring process improvements, gaining visibility across robotics and labor, and engaging your team.
Do Labor Management Systems (LMS) work in a single-client or multi-tenant warehouse?
3PLs and retail brands often need to organize their data by client or brand. Traditional labor management systems (LMS) are not well-suited for handling multiple clients or multiple brands within a single warehouse. Takt makes it easy to measure hours, costs, and performance by client and/or brand within a single warehouse.
What is the difference between a Warehouse Management System (WMS) and a Labor Management System (LMS)?
A warehouse management system (WMS) is a software application that helps organizations manage their warehouse operations. It can be used to track inventory, manage orders, and optimize the flow of goods in and out of the warehouse. A labor management system (LMS) is a software application that helps organizations manage their workforce, robotics, and productivity.

Many warehouse management systems (WMS) have a bolt-on labor management system (LMS). Oftentimes these bolt-on LMS systems lack features, are hard to use, and expensive to implement. As a result, they aren't used by operations teams and don't lead to productivity and cost savings.